Welcome to the KMC, the Manchester mountaineering, rock climbing and walking club. We are an active club with regular meets throughout the year.
Friday
Does anyone have a room divider that I could borrow for a couple of weeks, for use at the archive event on 31st, please? Thanks.
(Emily)
Advance Notice Meets
Welcome to the KMC, the Manchester mountaineering, rock climbing and walking club. We are very active, with meets every week of the year. You can view our Meets List to see what we have planned over the forthcoming months. Come and join us.
You don't have to be a member to come along to a Meet. We welcome new members to the club, and we encourage you to get to know us first by joining us on some meets.
If there's a meet you fancy, please do contact us for the latest info, car-share, etc.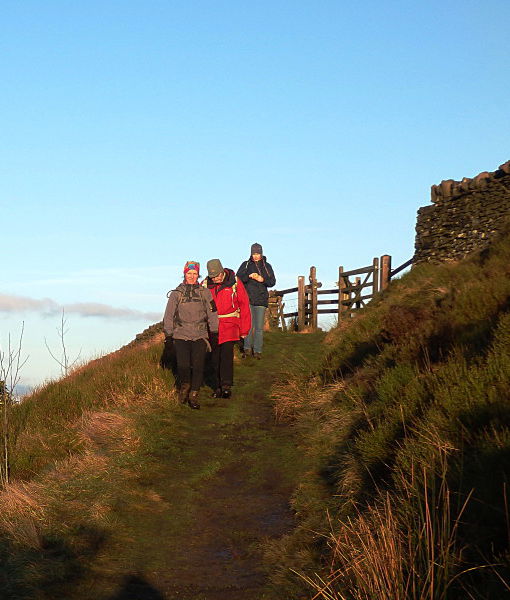 We have year round mid-week meets on Wednesdays. Throughout the winter months we have a weekly Indoor climbing sessions. Next one is at Stockport Awesome Walls During spring and summer we go outdoors to various different crags, mostly within an hours drive of Manchester City Centre. You can find out where we are each week by viewing the Meets list, which is regularly updated. Last minute changes can be found on our Scribble page.
Our picture gallery archive will give you an idea of the activities that club undertakes. We are a diverse club that enjoys activities including Rock Climbing, Scrambling, Hill-Walking, Winter Mountaineering and Ice Climbing, Wild Swimming and Fell Running.
The club owns a very fine mountain hut near Llanberis in Snowdonia, North Wales. We frequently hold meets there, and it can also be booked by outside groups. The hut is ideally placed for climbers who enjoy the delights of the local slate quarries, as well as being next to some of the best rock climbing and mountaineering locations in the UK.
Interested in Joining?
If you've got to the point where you are interested in joining the KMC, then have a look at our Joining page.